Oil&Gas, infrastructure and environment: Planetek and Airbus
Oil&Gas, infrastructure and environment: Planetek and Airbus present satellite services at the OMC 2019
Planetek Italia will join the Offshore Mediterranean Conference & Exhibition (OMC 2019), which will take place on 27-29 March 2019 in Ravenna, Italy.
Planetek will set up an exibition space in cooperation with Airbus Defence and Space (stand C8 Hall 4), dedicated to geospatial solution for Oil&Gas, energy and engineering industries.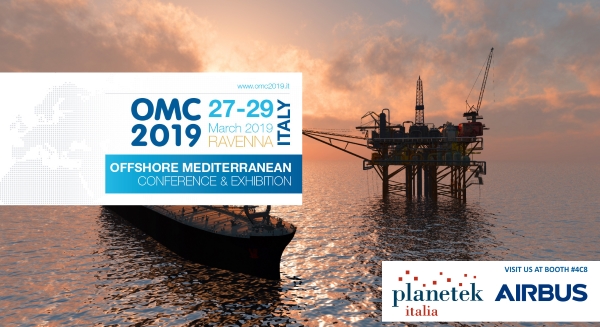 The OMC Exhibition is the premier marketplace in the Mediterranean region for the gas, oil and energy industrial supply chain. Over 30,000 square meters, 7 exhibit pavilions, 5 conference rooms, in addition to the Arena and the Tech Talks zones are open to nearly 650 exhibiting companies from 33 countries and over 20,000 attendees among ministers, CEOs, experts and trade professionals from worldwide.
Safeguarding people, infrastructures and the environment.
Planetek and Airbus will show how geospatial information plays a strategic role in the whole project lifecycle, i.e.: feasibility, exploration, development and settlement, production and decommissioning.
By acquiring and processing satellite information rapidly and accurately over wide areas, Planetek develops solutions to support professionals and companies in operational activities and decision-making, taking care of the environment and preventing risks through their continuous monitoring over infrastructures and the surrounding environment.
The satellite-based information services offered for the Oil&Gas...